Disabled & Carers Focus Group.
This group is independent of South Essex Homes and is made up of residents of all ages who are disabled, a carer or parent of a disabled person and are interested in helping disabled people and their carers.
This Group helps to raise the profile of people with disabilities, promote independence and reduce isolation. Their aims are to help others and support people to obtain access to services.
To join this group and influence the way disabled people are cared for in our community contact Sue Rickard on 0800 833160.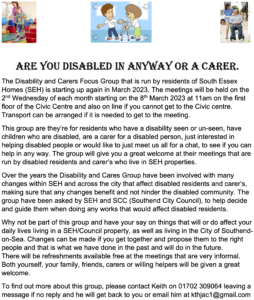 MINUTES FROM PREVIOUS MEETINGS CAN BE FOUND AND DOWNLOADED BELOW.